Yuki's story about engaging with ELLA as a parent
Yuki found new ways to become involved in her daughter's preschool year.
Wattleview Kindergarten
Japanese
Written by: Yuki Liddell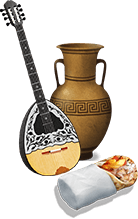 My daughter and I were both so thrilled when her kinder chose to learn Japanese. I am Japanese and eager for my daughter to practise her Japanese language with other kids as much as possible.
To begin with, I wondered how the educators would teach Japanese if they didn't know the language. However, that was not a problem. ELLA is an iPad-based program, and the kids learned through games and activities at their own pace.
As well as using ELLA, my daughter's teacher was keen to incorporate Japanese culture and songs in other activities. She wanted to associate Japanese with everyday life at the kinder – for example, by naming fruits in lunchboxes, naming colours and saying greetings. She also helped kids celebrate Japanese festivals such as Children's Day and Star Festival.
I was happy to help by reading children's books and teaching some songs. It made my daughter and me so happy for our culture and language to be recognised by the kinder community. My daughter felt more comfortable with everyone being interested in her language at kinder and came out of her shell more easily. It is so great for Australian children to be surrounded by other cultures and languages from a young age, and for them to learn from people from different cultures.
At the Christmas concert, my daughter and her friends performed some songs in Japanese. It was great to see everyone become one using another language.
I strongly recommend ELLA to all children in Australia. Learning a language through ELLA is a fun and rewarding experience.