Ignatia's story about ELLA in nature
Ignatia, from Anglesea Kindergarten, encourages children to learn using technology, while maintaining a strong focus on nature play.
Anglesea Kindergarten
Italian
Written by: Ignatia Diblasi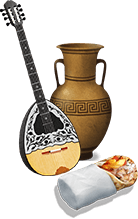 Working in a small coastal kindergarten we are fortunate to have access to, and regularly use, our wonderfully rich natural environment. Our educators and families are strong advocates of providing the children with as much uninterrupted play as possible in their natural environment, learning about our local flora and fauna as well as contributing to its conservation.
Introducing ELLA in a strong nature-based curriculum created a lot of dialogue and thought about how to successfully embed ELLA into it, as well as securing the support of families and successfully alleviating concerns regarding the use of technology in the kindergarten.
At our beginning-of-year interviews, we introduced ELLA, along with information about the benefits of learning another language. We also gave an outline of how we would incorporate and embed the learning throughout the curriculum. Introducing ELLA early gave us plenty of time to address any queries or concerns. We also handed out the informative family information sheets, provided by ELLA.
We talked to families about the benefits of technology in learning, and how technology is included in the Early Years Learning Framework (Outcome 4). We also talked about how we use technology in many different ways, such as plant and animal identification, and to extend, support and enrich the children's learning when out in the bush or at the beach.
We have found that once families see and hear their children using Italian, there is an increase in support and engagement from them in the language experience.
Children also learn Italian away from the screen – in our bush and beach kinder sessions, and as part of our normal program. We use Italian to greet families, say colours and numbers, when collecting and talking about found objects, when cooking and during transitions to disperse the children in small groups (eg if you are wearing 'rosso', you can go inside to pack your bag).
Each ELLA app introduces new words and we incorporate them in many ways. For example, we dance the hokey pokey, and play Simon says, Twister and a follow-the-leader game to help the children to learn the Italian words for body parts and to describe their actions. During snack and lunch times, we use Italian fruit and vegetable names that we know and look up ones that we don't. There are so many ways to embed the language and make it an exciting and natural part of the day – and it can be done anywhere.